HELLO, I AM MARIETTE!
I began my accounting career at a very young age. Being raised in a family-owned business that lasted over thirty years, I learned the importance of passionate entrepreneurship and its reliability on a strong infrastructure, great management and organized accounting system.  I was always fascinated by the numbers aspect of the business and how these numbers can be analyzed and utilized to forecast future success.  My first job out of high school was at an accounting firm. I worked at this firm throughout my college career until I graduated from California State University, Northridge in 2002 with a B.S. in Accountancy.
After graduation, I was recruited by a national CPA firm in Beverly Hills which specialized in high net worth individuals and small to mid-sized companies.  At this firm, I discovered my true passion for helping small business owners and as a result, I decided to specialize in accounting and taxation of small businesses and become in expert in QuickBooks.  Over 10 years later, I have stayed true to my passion and that is why in 2009, I opened my own  practice so I can continue to grow and share my knowledge with small business owners like myself. I want to Make A Difference for the Small Business!
IRS Enrolled Agent
I am a federally licensed tax practitioner with technical expertise in the field of taxation who is empowered by the U.S. Department of the Treasury to represent taxpayers before all administrative levels of the Internal Revenue Service including audits, collections, and appeals. I am required to abide by the provisions of the Department of Treasury's Circular 230, which among other things binds me to a strict Code of Ethics and Rules of Professional Conduct.
---
Certified Quickbooks ProAdvisor
I have been working with Intuit QuickBooks products for over a decade and I have worked with several industries including: contractors, manufacturing, professional services, non profit, real estate, property management, restaurant, retail, wholesale, and many more.
---
Professional Trainer and Educator
I have an incredible passion for teaching and sharing my knowledge with others. I have provided professional training in the areas of QuickBooks, Accounting and Individual/Small Business Taxation.
---
Professional Designation & Career Highlights
---
Honorary Recognition
Intuit's 2015 Top 20 Firms of the Future
"These firms are innovating and shaping the way they meet the needs of their small business clients through forward-thinking technologies and processes that ensure their future, long-term success, making them shining examples for traditional firms looking to transform their business."
http://blog.accountants.intuit.com/intuit-news/intuit-unveils-top-20-accounting-firms-of-the-future/
In Intuit's words: "We're excited to recognize Mariette Martinez, EA as one of the top 20 Firms of the Future in the United States," said Jim McGinnis, vice president, Intuit Small Business Group, Accountant Segment. Her firm has inspired us with their use of technology, the cloud and future-ready processes that improve practice management and position them as a trusted advisor to clients and prospects."
---
Hubdoc's Top 50 Cloud Accountants of 2015
"This group of people, charging into the future and evangelizing the benefits of the cloud. This year, we're been overwhelmed with the number of leaders jumping in head first."
http://blog.hubdoc.com/announcing-the-top-50-cloud-accountants-of-2015-north-america/
In Hubdoc's own words: "Mariette might be one of the most passionate advisors we've come across. She loves the Cloud, great apps, Swag with a capital 'S' and hanging out with awesome people. She gets it and knows how to leverage apps to make her practice better."
---
Hubdoc's Top 50 Cloud Accountants of 2016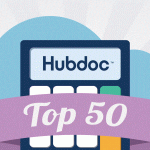 Mariette is awesome. She's regularly pushing the envelope and has already helped save over 400 SMBs! She's a regular feature at many of the sessions at QBConnect, including a panel on building a niche practice moderated by our Jamie Shulman. She's zeroed in on helping mommy-preneurs and delivering huge value for them. It's a market she knows well because she's a mommy-preneur herself!
Announcing the Top 50 Cloud Accountants of 2016
---
Five stars! If I could rate her higher I absolutely would. I have been a small business owner for years and I've gone through countless accounting professionals until I found Mariette. She is an answer to prayer! For the first time I found someone who took the time and effort to build a foundation of understanding. She not only provides a wealth of information and experience, but she delivers it with enthusiasm and joy. She is an expert in her field and has a true passion for her profession and her clients. Not to mention the accountability which I consider to be invaluable. I'm so grateful to have found someone who can wrap their head around the complexity of accounting specifically as it relates to the real estate industry.
---
L. Robles
CEO/Real Estate Investor/Dealer
Mariette is the best! I would rate her higher if I could! I recently started a business buying and selling houses as a Real Estate Investor. The problem was that I had no experience in business and studied biology and physiology while in school. She not only walked me through every step on how to best set up my QuickBooks Online Account, but she explained why we did everything the way we did. She gave me tons of advice on common business practices that nobody else was telling me about. If it wasn't for her, I would continue to do things that were incorrect and would hurt me down the road if I ever got audited. She's super professional, knowledgeable, organized, and thorough. I'm definitely going to continue to use her at least quarterly to keep tabs on my QuickBooks Online account! Highly recommend!
---
A. Valdes
CEO/ Real Estate Investor/Dealer
Mariette Martinez, EA has been training on accounting principles for 20 years. She's a pro. Isn't it time we supported the Latino Owned Businesses to thrive? We are. Accounting for the Numberphobic; A Survival Guide for Small Business Owners will be published in Espanol if it's the last thing I do. The book is currently available in English and Chinese. Espanol; the next stop. And as for Mariette, don't let those dimples fool you. She's world-class at what she does. She just happens to be a Numberphobic fan!
---
D. Fotopulos
College Professor & Author of Accounting for the Numberphobics
HiddenProfitPhophet
As the educational coordinator for the 2017 Landscape Industry Show, I found Mariette Martinez to be extremely responsive, low maintenance and fun to work with. The nearly 80 green industry professionals (office staff and owners and managers of small to medium businesses) who attended her two seminars were equally enthusiastic about the quality of her presentations. She scored exceptionally well on all of our evaluation metrics. Her average score for "Session met your expectations", "speaker presented ideas clearly" and "speaker interacted with audience" was 4.9/5, with an amazing 98 percent of attendees indicating that they would attend another class taught by Mariette. Comments in the evaluations were along the lines of "great class — the only reason I came to the show!"; "excellent speaker! very knowledgeable!"; and "amazing speaker." I strongly concur. Two thumbs up and five stars.
---
John S.
Communications Manager
California Landscape Contractors Association
Mariette Martinez brings and energy that is infectious to an event. I booked her as a speaker for a large conference and she was stellar throughout the entire process. She was consistently promoting the conference on all social media outlets using a variety of mediums. Every conference organizer wants speakers that are this engaged through every step of the pre and post event activities and bringing a positive attitude along with incredible knowledge just makes hiring her a no brainer.
---
Misty M.
Head of Accounting Programs and Education Strategy @TSheets
Most Powerful Woman in Accounting CPA Practice Advisor
Mariette is a pleasure to work with! She has deep knowledge of the challenges that both small business owners, and their consultants face and she knows exactly how to leverage technology to effectively serve them both! She is an energetic and well informed trainer, able to clearly explain concepts, both on and offline. Highly recommended!
---
Shufina E.
Director Programs & Operations – CAMEO
MicroBiz