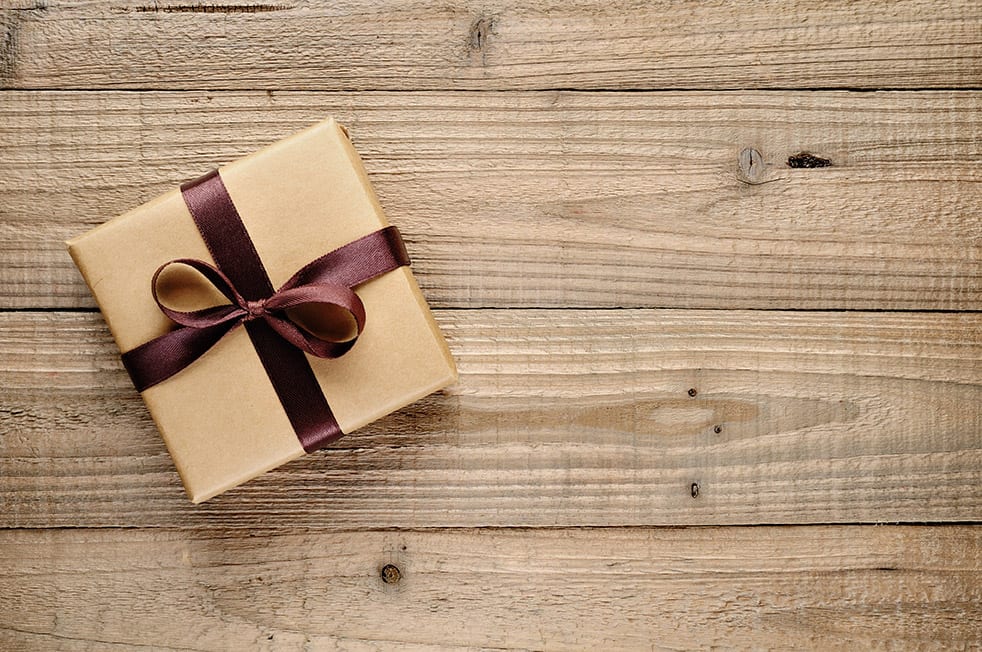 Learn and Grow To Give Back To Your Clients
Post courtesy of Between Wall and Main
We are less than a few weeks away from the Holidays and more importantly, an entirely new year! What that means for most financial service professionals is "getting our learning on". There are a plethora of resources available (most of them FREE) however finding and organizing them can be cumbersome.
Your holiday gift from Mariette comes early this year! (Yes, the video is precious and that's my little girl but I am referring to rest of the blog as my gift to all of you)
In this blog, I will share my most valuable learning resources and my method to keep them organized and easily accessible. Let' start at the very beginning…a very good place to start (yes, I am singing this while I am writing it)!
#MarietteLOVESLearning and Google Chrome Bookmarks!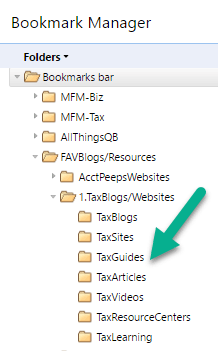 I use the above method to organize the learning resources in my Google Chrome bookmarks manager. I create a "parent" category for the main subject category and then "subcategories" to identify the "type" of resource it is. Below I will provide a simple explanation on how I identify my subcategories and provide a few of my favorite websites.
Learning Resource Centers:

I define these as an all-inclusive websites that provide several types of learning platforms. These websites are interactive and allow learning through reading, watching and interactive measures. These are truly a diamond in the rough so when I find one, I am very grateful for the "one-stop shop" experience. Below are a few of my favorites:
QuickBooks Resource Center – Intuit resources for SMBs & Accountants (see image above for quicker navigation)
U.S. Small Business Admin Website – EVERYTHING you need to know to start & run your SMB
IRS website – EVERYTHING you need to know related to federal taxes for your SMB
SCORE website – nationwide SMB education & mentoring
HealthCare.Gov – for ALL things healthcare
Intuit's ACA Resource Center – for all things Affordable Care Act for SMBs & Accountants
Blogs: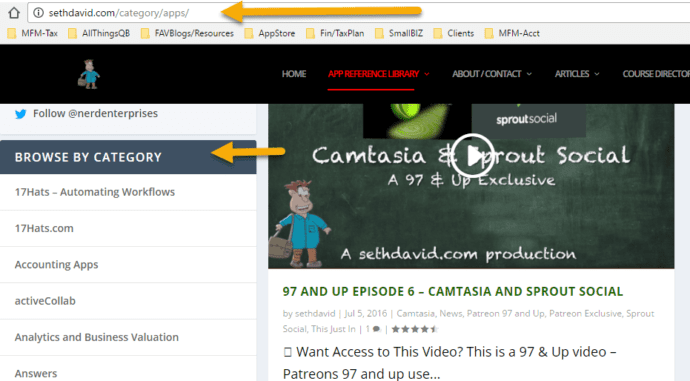 I define these as websites full of engaging written content by thought leaders in their industry. Many creative bloggers add video media to their posts as well.
BWAM – A SMB learning and growth strategy website with over 18 contributors
Accountex Report – The Leading Accounting Technology blog with thousands of written content
Intuit ProConnect/Tax Pro Center – Articles & Resources to learn & grow your Tax Practice
Seth David Apps Archives – Seth David's archives of written & media content on learning apps
Videos/Webinars (and some provide FREE CPE)
These are video media learning resources- I am HUGE advocate of listen while you learn.
CPA Academy – The Largest Provider of FREE Accounting, Tax & AccountingTech CPE
IRS Video Portal – Hundreds of tax related videos provided by IRS
Accounting Today Videos – Accounting Today's designated video portal
Intuit's ROBUST Busy Season Readiness Webinar Series: (3 going on NOW)
https://proconnect.intuit.com/lacerte/fall-training/
https://proconnect.intuit.com/tax-online/fall-training/
https://proconnect.intuit.com/proseries/fall-training/
ZoomInwithSeth: Seth's weekly interactive web meetings covering Hot Accounting & App Topics
YouTube channels – FREE video learning by "subscribing" to experts in their fields. My main objective on Youtube is learning so I "subscribe" to my favorite people and businesses and then create "playlists" in my personal YouTube library.
So that's a wrap with a Big Red Bow on top! Enjoy and share with all your colleagues, clients and friends #SharingISCaring