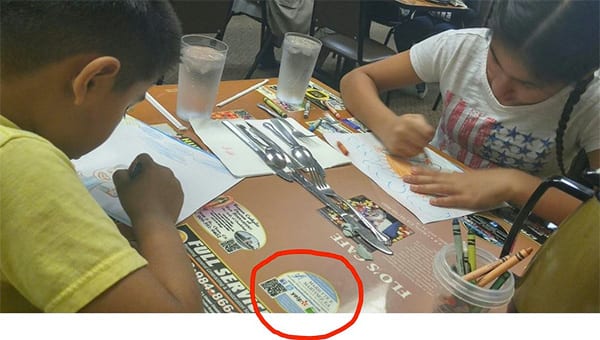 3 Technologies You Need to Run a Remote Practice
When I decided to begin my entrepreneurial adventure as the sole owner of a virtual tax practice, I had one primary goal in mind: Build a 100 % Cloud-Based Business. This was a relatively new idea for Solo tax practitioners at the time but I knew it would allow for a balanced work and family life. Since being a parent is my #1 priority, I was motivated to become a game changer and take my tax practice to the Clouds! I wanted the flexibility to service my clients from anywhere at anytime, even in the Clouds!
(What's with the RED circle: Surprising my kids with my table ad at our local favorite eatery is just one example of  how awesome it is to work & play from anywhere!)
I learned very quickly that juggling multiple hats would not allow for me to efficiently scale my business and meet this Cloud-Based goal. I needed to improve my business model and I decided to leverage technology and the Information Age to take my remote tax practice to an entirely new and exciting level.
In this 4-part series, I will share the first 3 technology areas I focused on that I knew would profoundly improve my online business. I will discuss my simple vetting process on how to tackle this challenge and deep dive into a few top contenders for each area. 
When I decide to implement a new technology in my practice, I use the same vetting process every time that includes 3 important steps:
RESEARCH: research and review the best players/software providers for that program industry (i.e. looking for an accounting solution, compare QuickBooks, Xero & Sage)
2-4 WEEK TESTING: Spend 2-4 weeks learning & implementing technology. Most if not ALL of the software providers provide free trial periods to test their program. Add the expiration date to your calendar and cancel trial right before your PAID subscription begins. If you do not LOVE the solution within a month, cut your losses & try another one. You literally have millions of options.
IMPLEMENT & CONTINUE LEARNING: Follow-thru with your implementation and add this new program to your company's workflows. Do NOT stop there. Join Facebook groups, subscribe to YouTube Channels and "follow" proactive users that also use this program so you can continue learning & mastering your new technology.
     +4 for extra credit: If you have not done so already, join BWAM on Facebook and interact with hundreds of technology experts 
When I first took on this same challenge, I started with the below 3 areas:
Remote/web meeting solution

This tool allows you to work and hold meetings remotely and reduce travel costs, while still maintaining a face-to-face experience with your clients

Secure cloud storage solution with client portal capabilities

This solution should include the highest level of secure and protected data options for your files, large space storage capabilities, and online and desktop automated syncing of all files.

Day-to-day project management solution, also referred to as a workflow solution

This solution should allow for project/task management, a collaborative team environment for task delegation and communication, deadlines/status updates, and a snapshot view of all active projects, at once.
In Part 2-4 of this blog series, we will deep dive into each of the 3 technology areas and I will share which are my Top Solution(s) that I have implemented in my firm. In addition, I will provide a few Top contenders for each area which will give you a strong head start for you to begin your challenge as well. Continue your journey with me here:
Part 2 –Meetings in the Clouds
Part 3 – Your Storage in the Clouds
Part 4- Projects in the Clouds